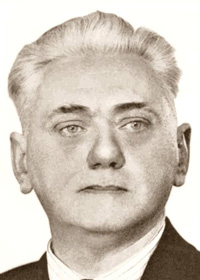 Charles Carter
31 Jan. 1887, 11:01 PM GMT
Parkstone, Dorset, UK
Placidus Houses, True Node
Geocentric, Tropical
(Source Notes)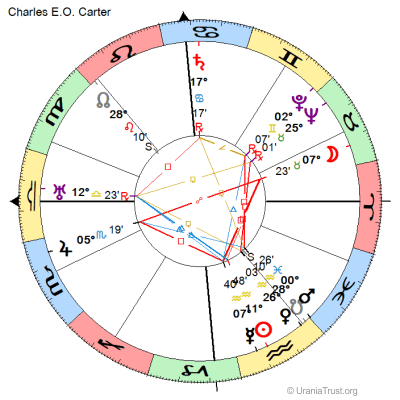 Charles Carter was an eminent English astrologer. He graduated from the University of London and began a legal practice in 1913. For four years he served with the British Army during World War One. He had begun to study astrology from 1910 and was personally acquainted with Alan and Bessie Leo and other prominent British astrologers of that era.
In the 1920s he began to write well received astrological handbooks as well as articles for the Astrological Lodge of London's periodical Astrology, the Astrologers Quarterly. He was editor of that periodical from 1926 to 1959.
Gradually he became recognised as the dean of British Astrologers. He was President of the Astrological Lodge of London from 1920 to 1952 and the first Principal of the Faculty of Astrological Studies when it was founded in 1948 – it is believed that the creation of the Faculty was his idea.
The clarity of his writing and his meticulous research made Carter's books extremely popular and most are still in print and available to students. Charles Carter died in 1968 – having successfully forecast that he would die during 1968. From 1970 onwards he has been honoured each year at the conference of the Astrological Association by the annual Charles Carter Memorial Lecture.
Major Published Works
A selection of his most successful works is shown below.
An Introduction to Political Astrology
Astrological Aspects
Astrology of Accidents
Encyclopaedia of Psychological Astrology
Essays on the Foundations of Astrology
Some Principles of Horoscopic Delineation
Symbolic Directions in Modern Astrology
The Principles of Astrology
The Zodiac and the Soul