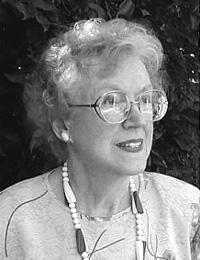 Lois M. Rodden
22 May 1928, 12:27 AM
Lang, Saskatchewan, Canada
Placidus Houses, True Node
Geocentric, Tropical
(Source Notes)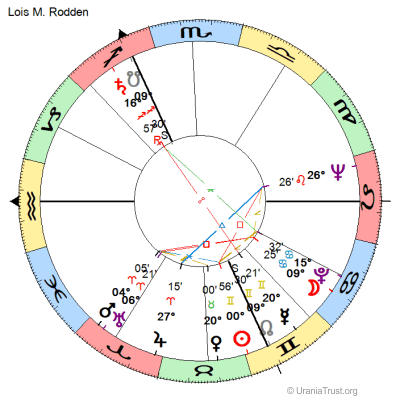 Celebrated American astrologer, writer and data collector. The winner of the 1992 Regulus Award for enhancing astrology's image.
Raised in a small Canadian prairie town until she was 12, her family moved to California on the death of her father. Lois dropped out of high school to take flying lessons and became a commercial pilot aged 18. At 21 she married George Rodden, an aircraft engineer and part time musician with whom she had 6 children. They divorced in 1967.
In 1961 the family were living in Los Angeles and Lois was introduced to the study of astrology at the nearby Church of Light. By 1967 she was a professional astrologer. Within a year she had been invited to teach at the Hollywood Astrological Society, and in 1973 she moved to Hollywood and built up a counselling practice of people from the entertainment industry.
Lois published four textbooks (see below) as well as five books of astrological data. Data collection and research were always her main focus of interest. In 1985 Lois made an arrangement with ISAR to transfer her data collection into a digital format so that it could be made available to astrologers at a reasonable cost.
She began to be recognised as the premier collector of astrological data working in the USA, with a reputation for the reliability of her data, based on her careful research. She devised a rating system for the estimated accuracy of the birthtimes which is still widely used, called the Rodden Rating. In 1996 Lois met and began to work with Mark McDonagh and together this led to the creation of the AstroDatabank. Following Lois' death from cancer in 2003 the data bank was acquired by the Swiss Ephemeris and their website astro.com.
Major Published Works
The Mercury Method of Chart Comparison
Modern Transits
Profiles of Women
Money, How to Find it with Astrology
The American Book of Charts
Astro-Data Books 2 to 5